東京出身1987年生まれ ロンドン在住。ナローボートに住んでいます。
Born in Tokyo live in London .

My painting practice involves creating mythical scenery from sources from wildlife landscapes, everyday life scenes, Eastern and Western folk mythology, visual images in folk-art such as textiles, ceramics, picture scrolls, and manuscripts. I am exploring combining these resources in order to create an imaginary landscape of humans living in nature. The selection of images and scenes are randomly occurring through my memories of travelling, walking, gardening, sleeping and reading. After I have the vague scene I search for similar landscapes by walking around my local environment capturing photographic scenes or by searching across the internet. I use painting as a trigger tool to experience these imaginary scenes more vividly and re-experience the past I perceived.

I am also fascinated by the properties of paints such as colour and brushstrokes which represents direct physical gesture in painting. This influence comes from my experience and training in Chinese brush calligraphy, which I studied when I was between 9 and 17 years old. The calligraphy doesn't allow you to draw the line twice, it requires the intensive concentrate and aiming for the purest stroke.


Plants in Manuscript (Under Construction)建設中
古典のマニュスクリプトに描かれている植物についてのブログ。たまに英語たまに日本語。
This is another my blog about plants drawn in old manuscripts. English/Japanese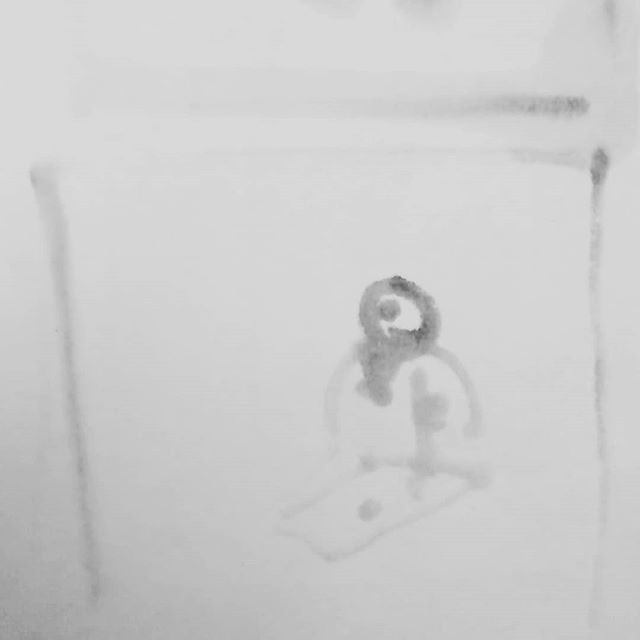 Bio
1987 Tokyo
2012 Musashino Arts University BA Tokyo
2019 University of the Arts London Wimbledon College of Arts Painting MA

Selected Solo Exhibitions
2020 'Word fo a day' at Bambinart Gallery, Tokyo
2018 'The moss of the rock' at Bambinart Gallery, Tokyo
2017 'Absurd daily life between June 17th and February' at Bambinart Gallery, Tokyo, Japan
2016 'Addiction and the wall' at Bambinart Gallery, Tokyo, Japan
2015 'Mio Ebisu' at Monacle Deli, England, UK
2014 'Kaden' at taimatz, Tokyo, Japan
2014 'Mio Ebisu- Shop art walk' at Cafe Shakey's in Tokyo designers week, Tokyo, Japan

Selected Group Exhibitions
2020 'Deep autumn; How does my neighbour live; I wonder?' at SET Project Space Lewisham London
2019 ' Squeezed! ' at Nunnery Gallery, London
2019 '3331 Arts Fair' at Arts Chiyoda 3331, Tokyo, Japan
2017 'What we can do in the desert if our password is weak and we are stuck offline' at Everybody Needs Art, Budapest, Hungary
2017 '片山正通的百科全書 " Life is hard…Let's go shopping." ay Opera City Art Gallery, Tokyo, Japan
2013 'Why not live for art?' at Opera City Art Gallery, Tokyo, Japan
2012 'Little little arts club'; presented by Yoshimoto Nara at Towada Art Centre, Aomori, Japan


Selected Participated Projects
2017 'Share the acts of bathing' Japan tour UK-JP artists/musicians collaboration
Hokkaido, Tokyo, Beppu, Kyoto, Nagoya
funded by Artist International Development Fund
2017 ' Living room' at Liebig 12, Berlin, Germany
2017 ' Verantwortung', Berlin, Germany
2013 'Art meets Beppu' Beppu Project, Collaboration with 'Yumenoki' Designed gift box and biscuit , Japan

Residency
2016 'DJVFA research residency' Bornholm, Denmark
2014 'Tsugihagi-Aomori' at art space tetra, Hakata, Japan
2013-2014 'Kiyoshima Apartment' by Beppu Project, Beppu, Japan
2013 ' Sunshine and Air' at Zamworl Museum, South Korea